Contact
Kerina Dykstra is a qualified Red Seal Chef and the Owner of "Let's Eat!" Personal Chef Services.
Prior to initiating her Personal Chef Services business, Kerina's fifteen plus years, work experience has included Serving (white glove/table etiquette), Restaurants (fine dining), Health Care (therapeutic/modified diets), Specialty Cakes (including wedding cakes) and most recently, Perfect Pairing Progressive Dinner and Wine Tours. Utilizing her personal and professional skills, she offers diverse services, specializing in Candida (Yeast Allergy) Diets. Kerina's natural culinary talent, compassionate manner and fine sense of humour is what makes her service unique.
Kerina is easily available for private consultations, and can be contacted either by telephone, at 902-300-1268, or by email at kerina@letseatns.com: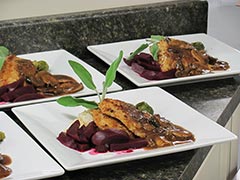 Main Course Progressive Dinner: Pork Schnitzel served with a Rich Mushroom Demi Glaze, Rosti Potato, Harvard Beets & Brussels Sprouts in Brown Butter.