Entree Services
How do the Entree Services work?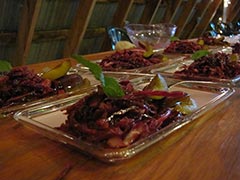 Appetizer Progressive Dinner: Alsatian Salad with Fresh Plums and Mint.
Once you contact Chef Kerina, the consultation date will be scheduled. The consultation usually takes place in your home, this way Kerina can see the kitchen layout and equipment you have available. During the consultation, you will be asked a few questions, such as any allergies/intolerances, dislikes, etc. When all the details have been worked out, a cook date will be scheduled. It is not necessary for you to be home during this time; however, Kerina welcomes clients who enjoy seeing the action first hand!
Entree Services & Pricing:
Come home to a clean kitchen and wonderful aromas that fill your home! All entrees are balanced meals and include the cost of groceries. Pricing is based on a choice of 4 entrees per person. All meals will be packaged to your specifications, either the fridge or freezer and come with detailed instructions for reheating.
Four Entree Service:       $250.00 ($15.63/serving)
(4 complete meals for Four or 8 complete meals for Two or 16 meals for One)
Five Entree Service:        $310.00 ($15.50/serving)
(5 complete meals for Four or 10 complete meals for Two or 20 complete meals for One)
Six Entree Service:          $360.00 ($15.00/serving)
(6 complete meals for Four or 12 complete meals for Two or 24 complete meals for One)

Please Choose From the Following Options