cooking for candida
Cooking for Candida: 3 Month Meal Plan $75.00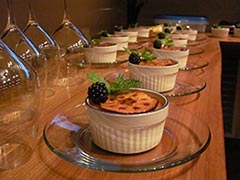 Dessert Progressive Dinner: Apple Linzertorte Crème Brulee.
Candidiasis is an overgrowth of Candida (yeast) in your body. It can be a debilitating and challenging condition to live with. When it comes to aliments, we rely on the Health Care Professionals for remedies, and sometimes dismiss how important a proper diet really is. Through personal experience, Kerina has carefully designed an easy to follow 3 Month Meal Plan complete with recipes. Knowing each client is unique, she offers the option of customizing each plan to suit your individual tastes!
Upgrade to include Personal Chef Services: $25.00/hr (4 hrs min).
Have piece of mind during this tough time... by having your meals prepared, you can continue your daily routines with minimal disruption. This services allows you to cut down on "bad food days", keeping you focused and in control!