Perfect pairings progressive dinner and wine tour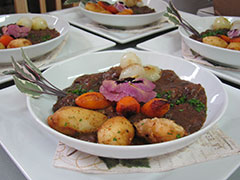 French Theme Menu - Main Course Progressive Dinner: Lowline Black Angus Beef Bourguignon served with Tourneed Carrots, Chateau Potatoes and Pearl Onions."
September 14th or 21st, 2013
Get ready for the most unique dinner party you've ever attended! You'll enjoy an evening of food and wine while getting a private winery tour and dinner with each course at a different winery in the Annapolis Valley.
You will experience all facets of the wine industry as you tour three wineries, enjoy in-depth tours of the vineyards, cellars, complete with wine tastings at each winery. You will also partake in food and wine pairings on a progressive dinner starting with a creative appetizer and a glass of wine in the vineyard. The three course meal is created by Red Seal Chef Kerina Dykstra of Let's Eat and is paired perfectly with local wines. The evening finishes watching the sun set over the vineyard with a decadent dessert!
Sept. 14 – Visit L'Acadie Vineyards, Blomidon Estate Winery and Gaspereau Vineyards for a Regional European menu.
Sept. 21 – Visit Blomidon Estate Winery, Grand Pre Wines and Luckett Vineyards for a Mediterranean inspired menu.
Tour departs from the Harbourfront Marriott in downtown Halifax, Tour duration – 230pm-830pm Price - $130/person plus HST
OR depart from the Old Orchard Inn in Wolfville and add a night's stay for $115/person for the tour plus get a $99 room rate! (Taxes extra)
Reservations can be made through Go North Tours at 1-877-365-2552 or info@gonorthtours.com. Seats and rooms are limited!